Lawn - road grid
KRATA TRAWNIKOWO-DROGOWA
Technical cross-sections :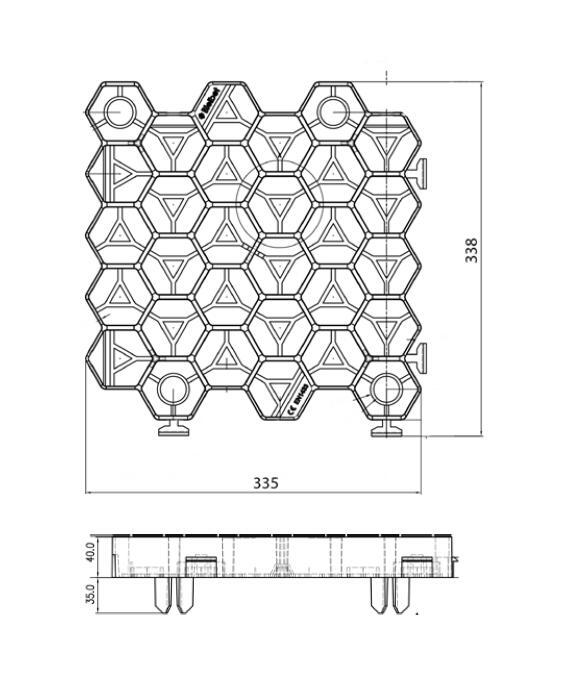 Bielbet Lawn-road grid:
it is a modern solution for surface hardening and stabilising,

enables expanding biologically active areas,

during rain the grid stabilizes the ground and protects vehicles against getting stuck in,

enables natural circulation of water,

construction of the grid provides excellent condition for grass vegetation,

improves the load capability of driveways and grass lawns,

small weight of the grid makes assembly and transport easy,
Bielbet Lawn-road grid it is composed of chambers creating hexagonal structures. It has connectors used to assembly the elements into one smooth surface stable both horizontally and vertically. Made from polythene of high density, symbol HDPE, also received from the recycling process of plastic scrap. Available in dimensions 335X338X40mm is usually produced in colours black or green.
Use :
Category I :
Surface of lorry parks and bays

Surface dedicated for traffic and roadsides
-roadsides,
-housing estates driveways to houses, driveways to office buildings and production halls,
-driveways and place manoeuvre along blocks of flats and production buildings
Category II :
Surface of pavements and car parks for vehicles – 2500kg
-pedestrian paths in parks (only with grass)
-garage entrances,
-caravan parking spots
-car parks
-covering the area around trees growing along pavements,
-hardening of drains,
-protects escarpments against erosion,
In case of car park spots for lorries and surface for manoeuvre the grid may be used in a system together with other concrete slab elements.
Terms of use Bielbet Lawn-road grid may be used:
with aggregate Category I

with grass Category II